CHANGING THE FACE
OF INDIAN CREEK SCHOOLS
In one of our largest projects in decades, Indian Creek Schools is constructing a new Fieldhouse and Auditorium.
The projects replace an auditorium (constructed in 1976) and a student activities center. Both buildings will be attached to the rear of the high school, with the existing natatorium between them.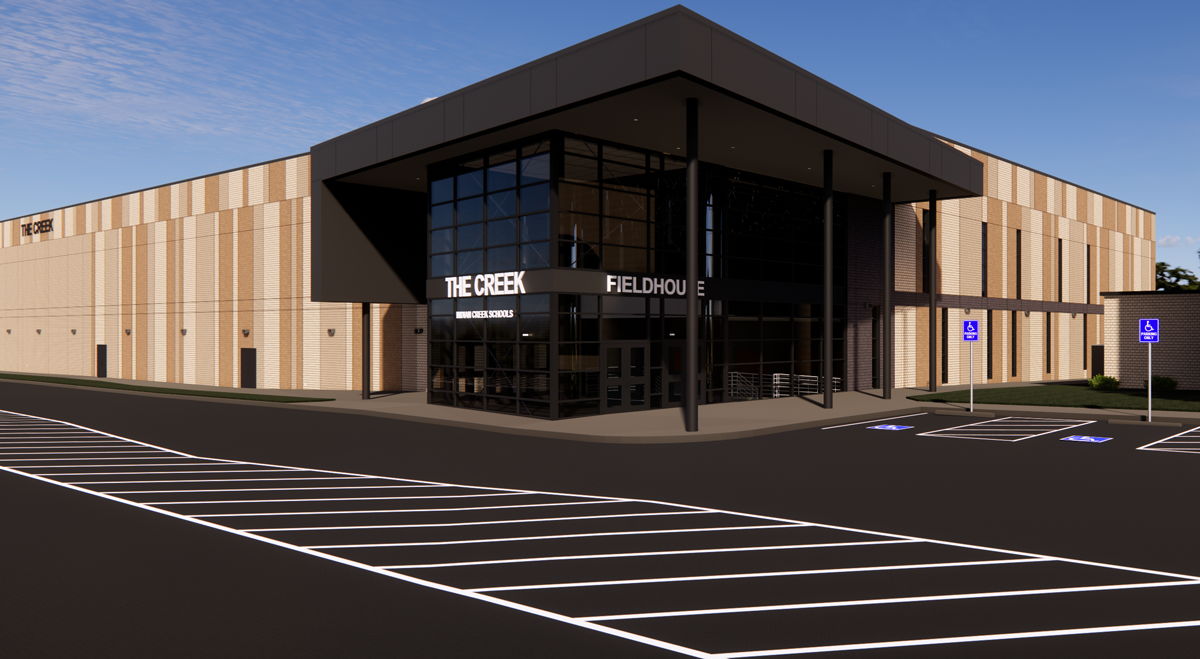 THE FIELDHOUSE
68,000 square feet of space
Suspended track
Three regulation basketball courts
Wrestling room
Multipurpose room
Weight room
Cardio fitness room
Concession area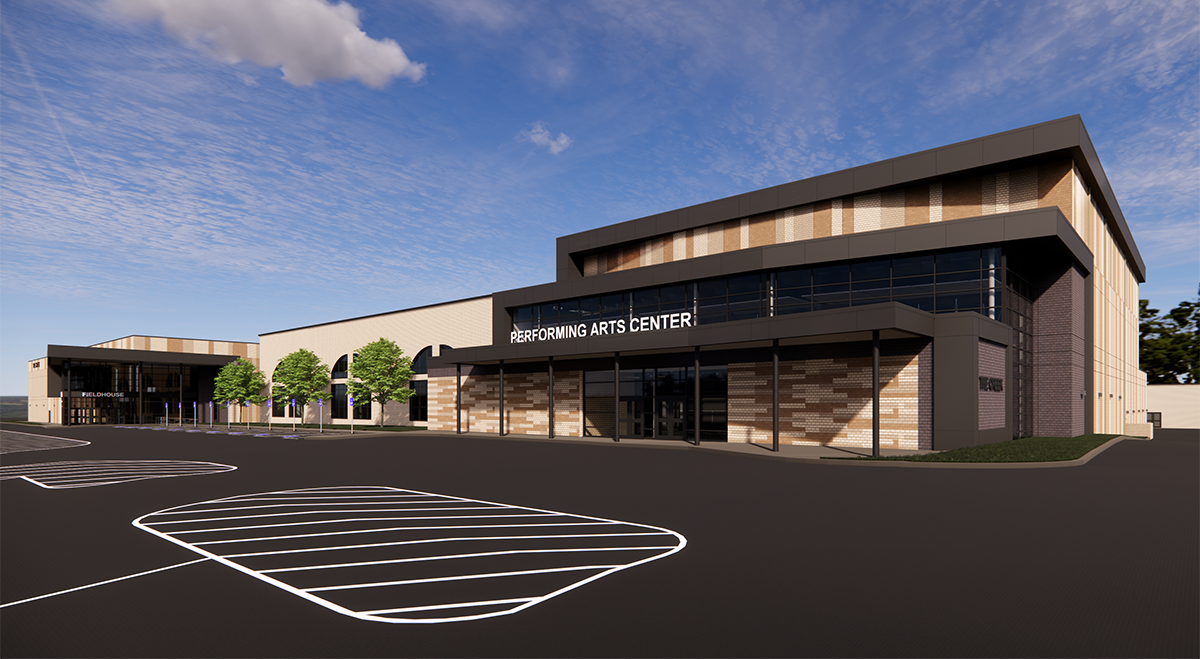 THE AUDITORIUM
26,700 square feet of space
State-of-the-art auditorium
916 seats for audiences
Theatrical lighting
Fly curtails
Scene shop
Greenroom
Orchestra pit and shell
Financial Information
Cost - Approximately $30 million to $33.5 million
Funding - Bond financing for this project will raise the overall school tax rate by 10 cents, in addition to other revenue sources.
Public Process - After two 1028 public hearings regarding the funding proposal in November and December of 2019, the public had 30 days to file a remonstrance or a petition against the proposed increase. No remonstrance was filed. The project is not expensive enough to warrant a referendum. Therefore, this project is proceeding as planned.
Architect
Lancer+Beebe earned the Best in Category / K-12 Education award at the biennial International Interior Design Association, Indiana Chapter 2021 IDEA Awards.
Construction Manager
Since 1908, Hagerman has been a leader in the construction industry, earning the trust of their clients and providing innovative ideas to further develop efficient delivery of construction services.

THE VIEW FROM ABOVE
June 2022
Here is the latest update:
May 2022 Activities
The Auditorium interior structural steel was substantially completed minus the catwalks
The Fieldhouse pre-cast wall panels were substantially completed
The Fieldhouse structural steel was delivered and started erection
The Fieldhouse south parking lot was lime stabilized
The existing Bus Garage, Maintenance Building and Radio Tower were demolished
June 2022 Activities
The Auditorium interior structural steel will be detailed, and roof decking installed (weather dependent)
The "Summertime Work" in the Natatorium corridor will begin
The Fieldhouse structural steel will continue erection (weather dependent)
The Fieldhouse and Auditorium south parking lot will be paved (weather dependent)
Groundbreaking Ceremony
August 11, 2021
WHAT THEY ARE SAYING
about the project
"The construction of a new auditorium and fieldhouse will change the face of our NHJ school campus, but, more importantly, these two new facilities will allow our students to perform and compete at a higher level that will significantly improve and grow our fine arts and athletic programs. Exciting times to be at The Creek!"
- Dr. Tim Edsell, NHJ United School Corporation Superintendent
"As a long-time educator in our community, I am thrilled to work with the school board to bring this project to fruition. We look forward to watching our students, staff, and community benefit from this expansion."
- Judy Misiniec, NHJ United School Corporation Board President.