Studying Fine Arts promotes positive development in the academic, social and emotional realms. Adding arts to a comprehensive educational program makes us most human, most complete as people.
Concert Bands
From music fundamentals to advanced music, the bands at Indian Creek work to develop the entire musician for a life-long approach to instrumental music. Indian Creek High School has two bands during the School day. Concert (Beginning and Intermediate) Band is open to students in grades 9-12, and Symphonic (Advanced) Band is open to students in grades 10-12. Both bands rehearse as a class for credit during the school day, and perform a Fall, Winter, Spring, and ISSMA Concert throughout the year.

Students learn musicianship through repertoire, performing music from classic band literature, to jazz, to contemporary music from composers. In the Indiana State Music Association, Concert Band performs for adjudication in Group III, and Symphonic Band performs for adjudication in Group II or I.
Both bands consistently earn Gold Ratings in both their stage performance and in Sight Reading. Many of our Band Students audition into honor bands throughout the year, with students selected to perform at the Indiana Music Education Association State Honor Band, Ball State University Honor Band, Indiana State University All-Star Honor Band, and the Indiana Bandmasters Association All-District Honor Band.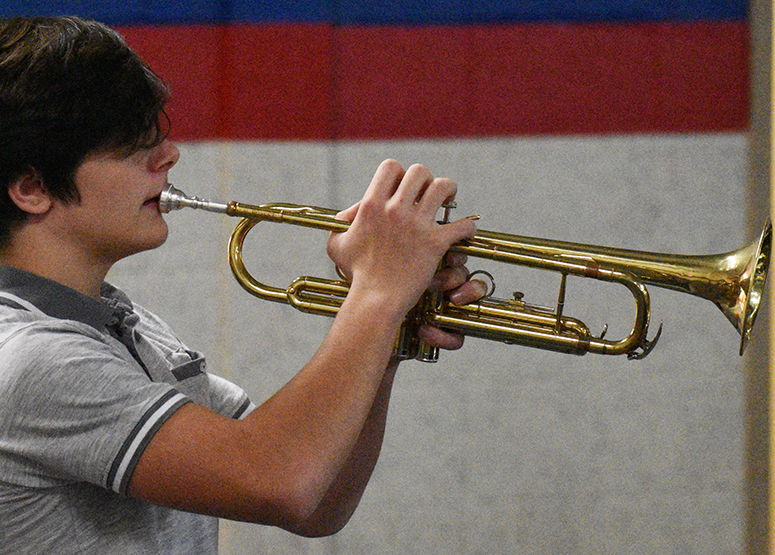 The Marching Braves
The Indian Creek Marching Braves focus on leadership, excellence, movement, and musicianship. The Marching Braves are open to any student in grades 8-12, and meet as a group outside of the school day. Brass, Woodwinds, Percussion, and Color Guard all work together to create a show for the field! The Marching Braves perform at home football games, parades, and in ISSMA Competition, where they are a two-time ISSMA Class C Semi-State Finalist, and a two-time ISSMA Scholastic B State Finalist.
Winterguard
The Indian Creek Winterguard is an extracurricular group that combines dance, musicality, and equipment work in a gymnasium. Using the same equipment as Fall Color Guard, the Winterguard uses Flag, Sabre, and Rifles to spin and perform to recorded music. While many of our guard members are also musicians in the concert band program, students who are not enrolled in the band are invited and encouraged to be a part of the Guard program.
United Sound
United Sound is a national organization that provides musical performance experiences to students with special needs through peer mentorship. This amazing group builds leadership and fosters positive relationships for all students, and gives every child a chance to be a part of the band! The Indian Creek chapter of United Sound was the first High School Band Chapter in the state of Indiana, and our students have performed at Clowes Memorial Hall for the National Concert Band Festival, Lucas Oil Stadium with Drum Corp International and Bands of America, and with the Franklin College Band. Indian Creek United Sound has performed with the Michigan State University Marching Band, the University of Alabama Marching Band, and the Jacksonville State University Marching Band.
Pep Band
Supporting our school community is important to us, and we love the chance to do so during the basketball season. The Indian Creek Pep Band performs at Men's and Women's Basketball Games at the High School. This group plays a wide variety of rock, pop, and jazz music from different eras, and is an extracurricular activity open to all band students in grades 7-12.
Jazz Band
The ICHS Jazz Band meets as a club during high school IRP time. This group is open to all high school band members in grades 9-12, and we learn and perform jazz repertoire, jazz style, and some rock and pop music as well! ICHS Jazz Band performs at the Fall, Winter and Spring Concerts.
Percussion Ensemble
The ICHS Percussion Ensemble meets as a club during high school IRP time. This group is open to all high school band members in grades 9-12, and we welcome non-percussionists in the group to learn a second instrument! This group learns a wide variety of music and percussive techniques, and they perform at the Fall, Winter, and Spring Concerts. In 2020, the percussion ensemble achieved a Gold rating at the State Solo and Ensemble Contest, a first for ICHS.
Solo and Ensemble
Indian Creek Band Members participate in great numbers at the ISSMA Solo and Ensemble Contest. Some perform solos, trios, quartets, or in larger groups like the Brass Ensemble, Woodwind Choir, and Woodwind Quintet. Many of these ensembles and solos advanced to the ISSMA State Solo and Ensemble level each year.
AP Music Theory
AP Music Theory is a course offering at ICHS that prepares students in band, choir, and music with advanced Theory and Composition work. Students can take the AP Test in the spring, which can assist with college credit, or placement in theory classes at the college level.
Indian Creek Band Boosters
The Indian Creek Band Boosters is a volunteer parent organization that provides monetary and manpower support to all the Indian Creek Bands including ICMS and ICHS Concert Bands, Marching Band, Pep Band, Jazz Band, Soloists, and Ensembles. Our parents work so hard to help to provide music, transportation, contest fees, and any assistance that each band at the High School and Middle School might need throughout the year.