ICHS Presents 67 Cinderellas April 29-May 1
April 28, 2021 Author: Indian Creek Schools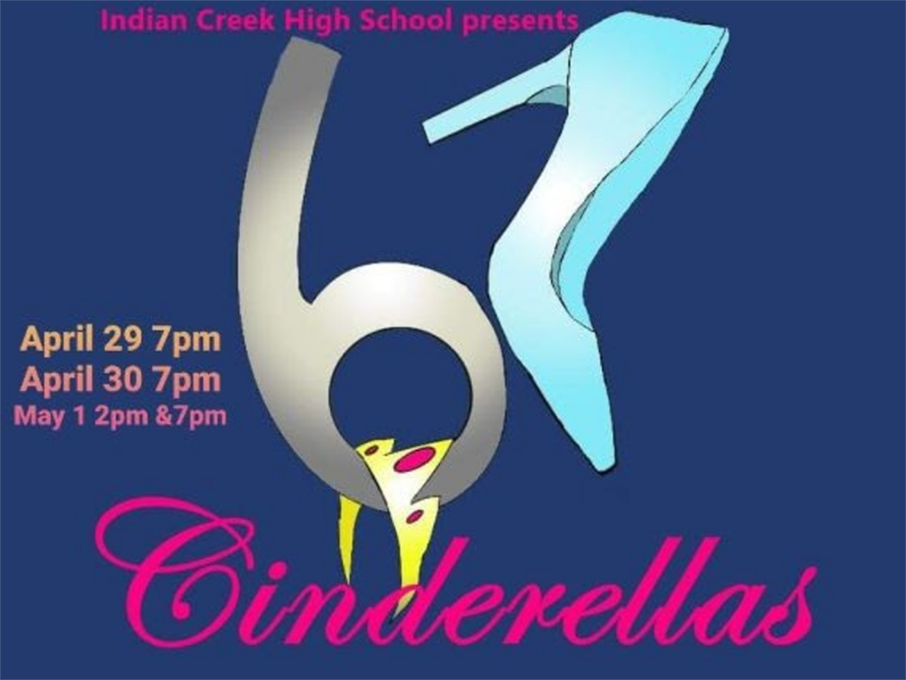 Indian Creek High School will present "67 Cinderellas" from April 29 to May 1 at the school's auditorium.
In the traditional fairytale Cinderella, her lost shoe becomes the only clue left in a desperate search for the Prince's one true love. This tale takes an unexpected twist as the shoe fits not just one woman, but 67 fair maidens in the land.
67 Cinderellas debunks ridiculous traditional storybook notions of romance and what it means to be a princess.
Tickets can be purchased online. Performances are:
7 p.m. Thursday, April 29

7 p.m. Friday, April 30

2 p.m. and 7 p.m. Saturday, May 1
Additional Information
Please click on "view all events" to see all show days and times.

Tickets are $7; no tickets will be sold at the door.
The event is family-friendly.
Masks are required for audience members.
Live stream options will be available for Thursday night's performance and Saturday night's performance. Those shows' tickets will be available for purchase the week of the performances and will be $10.
Directed by: Lauren Atwood (latwood@nhj.12.in.us)
Assisted by: Robin Bratton (rbratton@nhj.k12.in.us)
Student Director: Emily Peters (peterse957@indiancreekschools.com)