Indian Creek High School Presents: The Legend of Sleepy Hallow
October 6, 2022 Author: Indian Creek High School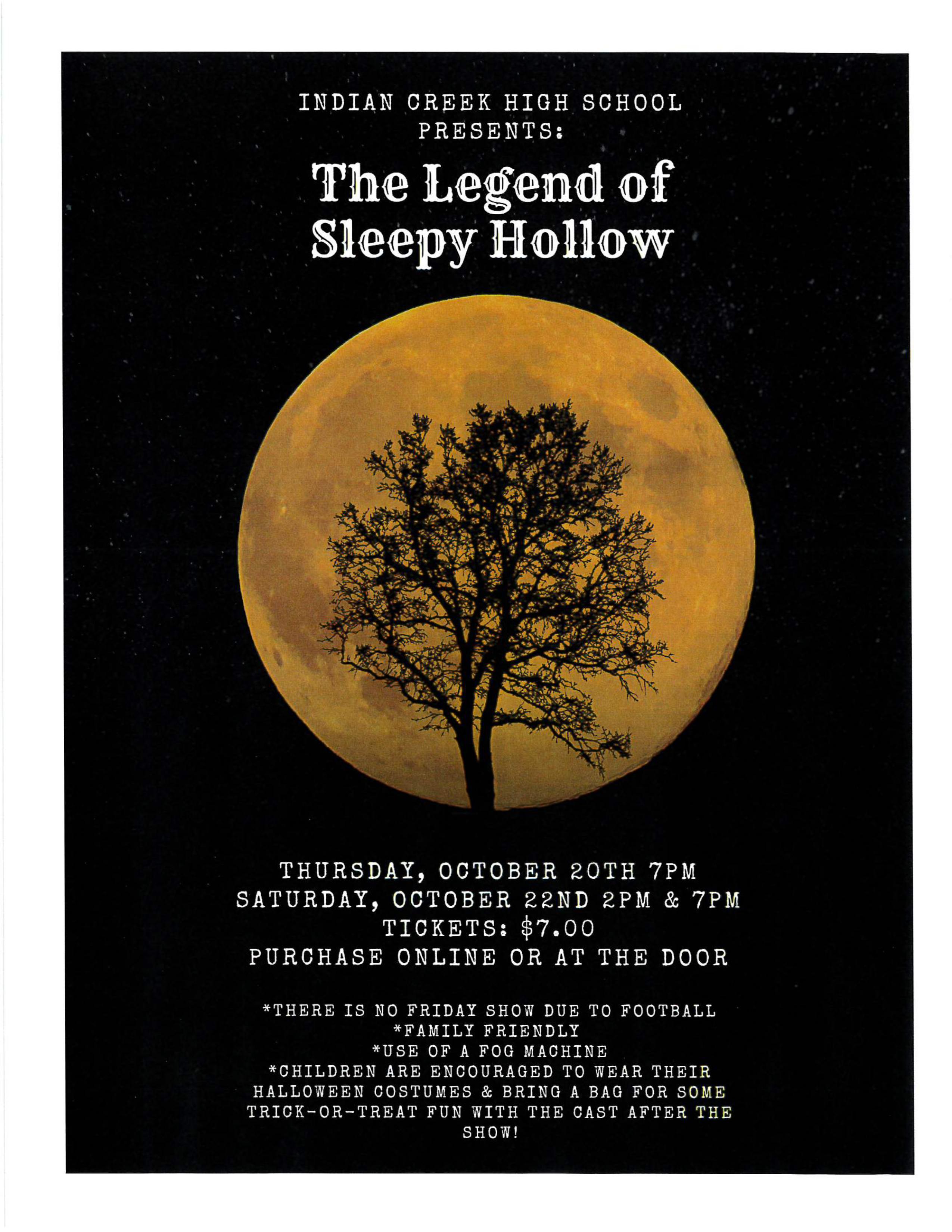 Indian Creek High School invites the community to attend the spooky not scary adaptation of "The Legend of Sleepy Hollow" on Thursday, October 20th, and Saturday, October 22nd in the ICMS auditorium. Tickets may be purchased in advance online or at the door for $7.00 per person. This event is family-friendly (Horseman is seen once, and no blood, guts, or face paint are in use) and children are invited to wear their costumes and bring a bag for trick-or-treating with the cast after the show.
The play features Ichabod Crane as the new schoolmaster assigned to Sleepy Hollow, a small town by the Hudson River. He sets his sights on Katrina, the eldest daughter of a wealthy farmer's widow Lady Van Tassel. However, Katrina is already "claimed" by Brom Bones, the biggest bully in town! As Ichabod woos the fair Katrina, Brom schemes to regain what he considers his rightful place. He blackmails four unwilling witches into conjuring up the infamous Headless Horseman. Add all the other eccentric and not- so-eccentric inhabitants of Sleepy Hollow and you've got a comedy perfect for Halloween or for anytime someone wants to tell a classic tale of love, revenge, and intrigue.
Dates:
Thursday, October 20th, 7:00 p.m.
Saturday, October 22nd, 2:00 p.m.
Saturday, October 22nd, 7:00 p.m.
Ticket Link: https://www.ticketracker.com/store/events/1857?departmentId=369