'Milo' Robot Helps With Behavior
March 7, 2020 Author: Indian Creek Schools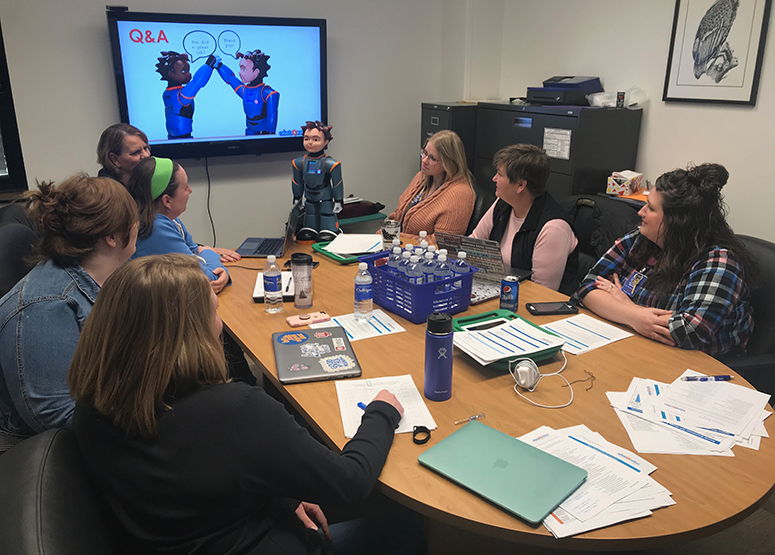 Indian Creek Schools has been selected for an Indiana University study on a unique technology that connects teachers with students who have communication challenges such as autism.
The Technology-Based Interventions for Students with Autism study is based at Indiana University, Bloomington. Led by Dr. Sarah Hurwitz, the purpose of this study is to implement a robot-based curriculum for students with autism in public elementary schools in Indiana. This study seeks to understand the school staff's experience using the robot-based curriculum and what they perceive as benefits and barriers to implementation of the intervention.
The technology features 'Milo', an advanced robot designed to teach behavioral and social skills to students with autism. He will be used to support students at Indian Creek Elementary and Intermediate schools who have social, behavioral and/or communication needs.
"I thought that it would be a great way to utilize the technology that students already have access to (the program runs through an iPad)," said Cassie Trimble, special education teacher at Indian Creek Elementary.
Trimble said being selected by IU for the study was an amazing opportunity as the initial expense of Milo and the subscription for the software is approximately $10,000. "By partnering with IU, we did not have to utilize any of NHJ's funds."
The special education staff at Indian Creek has been trained using Milo to deliver research-based lessons for teaching social, communication and behavioral skills.
Milo was developed by RoboKind, a learning company whose mission is to create cost-effective and inclusive education for all. Working with experts in the autism community and school systems around the world, RoboKind has developed two products, Robots4Autism and Robots4STEM, to give children opportunities to realize their full potential and pursue their passions and interests.
"Milo the robot is designed to be interesting and approachable for learners," the company stated. "He can walk, talk and even model human facial expressions. Milo never gets frustrated or tired. This recurring positive experience creates an environment in which learners can learn and thrive. Milo helps learners improve their social and behavioral skills and gain the confidence they need to succeed academically and socially."
ABOUT THE STUDY
Fifteen schools, including Indian Creek Schools, have been recruited and trained on how to implement the robot-based intervention. The research may help to improve the implementation of social skills interventions for students with autism and lead to a better understanding of the role that technology plays in fostering learning.
ABOUT ROBOKIND
Working closely with the Autism Spectrum Disorder (ASD) community, RoboKind has developed Robots4Autism and Milo, a socially advanced robot, who's proven effectiveness with learners with ASD is over 80 percent as opposed to the 3 percent for traditional therapy. Milo never gets tired, never gets frustrated, and is always consistent, which is important when teaching through repetition.